Locksmith Herndon
Automotive Locksmith
What if you forgot to remove the keys from your car before stepping outside of it and shutting the door, leaving them stuck in ignition? Would you take the chance of relying on random local locksmiths to fix the issue? Would you put the safety of your car at risk by choosing cheap services? If you face this kind of situation or want to avoid falling into a similar one, get Locksmith Herndon to set up at reliable lock and key system for your car. Our team of locksmiths in Herndon, Virginia can also help you out of an emergency situation if you are locked out. With us at your service, you are sure to feel safer in regards to your car. It doesn't matter what kind of vehicle you drive - Mitsubishi, Lexus, Hyundai, Honda, or anything else - our handy team can handle the concern. Reach out to the pros at Locksmith Herndon and attain a price quote today.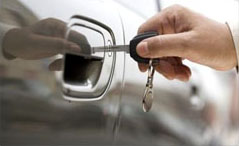 Call us at (703) 542-9663
We have designed our lock and key services so as to cater to any kind of vehicle. Locksmith Herndon has services like:
High Security Sidewinder
Lock Replacement
Ignition Cylinder Replacement
Automotive Keys
Rekeying Service
Smart Keys
Transponder Keys Made
Unlocking Car Doors
The purpose of our services is to see our customers satisfied, and feeling more confident about the safety system for their car. Locksmith Herndon aims to provide the best in automotive services. When it comes to your car, we recommend you trust only the professionals. We are glad to be at your service at any time of the day that we are needed. Whether you want to replace your lock system or get your car keys duplicated, we can get the job done because we are the best locksmiths in Herndon, VA. Call us and find out more.  
Call now: (703) 542-9663